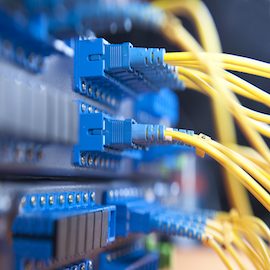 Networking Services
Microbit Information Systems have a wide variety of services that can be tailored to meet the business requirements of any industry; ranging from small to large businesses.
Infrastructure and Network Solutions
Implementation of a network infrastructure requires careful and intense planning. This is to ensure that the network infrastructure is efficient and scalable. If the right network infrastructure is implemented for a company, redundant cost can be reduced.
In Microbit Information Systems, we provide various kinds of network infrastructure designs that will meet your requirements. If you do have an existing network infrastructure, we will go on-site, identify the weaknesses in the current design and provide suggestions for a network re-engineering work. And to assist in the upgrade of hardware and software components in the network, our skilled engineers are also able to do a data migration or application migration or even both.
Risk Management
Risk management is having measures in place to protect the network from security risks. If such measures are not implemented, malicious attacks to the network can occur as well as theft of confidential data. These could cause unnecessary disruptions to the business and therefore create huge losses to the company.
As risk management is a daunting task to many, we at Microbit Information Systems are able to provide various solutions that are able to help safeguard your computers. We provide firewall, antivirus and intrusion detection solutions in order to minimize the risks of unauthorized access to your computers.
IT Support
IT support is providing maintenance of the hardware and software components in the network. This ensures that every component in the network is updated and is working at its optimal. Therefore, an improved network environment would mean users are able to perform their tasks effectively.
IT support is an imperative role in any business. At Microbit Information Systems, we provide various types of IT support that will meet your needs. We provide phone support services, remote desktop support services and on-site support services.
Phone support services: Engineers are on stand-by to assist you at any time via the phone.
Remote desktop support services: Engineers will assist you from office whenever possible.
On-site support services: Engineers will go down to your office to assist you when necessary.
IT Engineering Outsourcing
IT engineering outsourcing is providing services to manage the IT operations in the company. Hence, this enables you to focus on the more important business processes and at the same time reduce operational costs.
We, at Microbit Information Systems, are able to provide many IT services that will cater to your needs. Some of the services that we are able to provide are planning as well as implementation of the network infrastructure, risk management and support.
Maintenance Contract
Maintenance contract is an agreement to cover the maintenance of the product or service purchased based on your business needs. The agreement will specify the expectations, timeline and price of the maintenance. The following consists of a list of features in a maintenance contract.
Block time: Block time refers to the allocated amount of hours of maintenance to be requested by the user, when it is a non-emergency. This would make perfect sense for user who would like assistance when faced with a problem during migration as well as implementation of on-going projects.
Tailored support: The services provided would be based on your business requirements. The services will include telephone support with fast callback (by per incident) and onsite consulting time (prepaid).