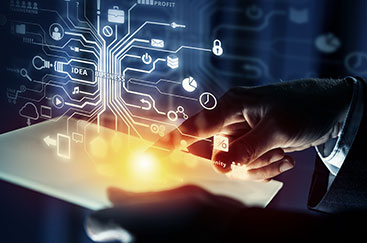 About Us
Microbit Information Systems Pte Ltd (MIS) is professionally managed by a core group of visionaries and technologists with decades of industry experience between them and backed by a team of trained professionals at all levels of operations. Perfection is a way of life at MIS. The organization has grown from a small beginning in 1993, to become a company of international repute for reliability. MIS has transformed from an ACCPAC Reseller to a company providing total IT solutions to companies in Singapore and the Asia region. MIS provides hardware maintenance, networking, software and consulting services.
We have a large customer base, which spreads across Singapore, South East Asia and East Asia. This illustrates MIS is able to offer overseas support to customers who have regional operations. We also have several listed companies as customers, as shown in our track record. "We are the authorized ACCPAC Business Partner and Certified Consultant by ACCPAC International. "We are the founding member of the MIS Global Alliance Network whose members are spread across the Asia Region.
Operating from a modern, purpose built premises located in the heart of Singapore. MIS today boasts of a state-of-the-art development facility, also has extensive communication networking facilities.
Our Focus
The principal business activities of MIS are implementing of ACCPAC Accounting software, networking, hardware maintenance and consulting assistance. We also provide Broadband services and Web hosting and designing services. We have the skills and experience to deliver a complete range of implementation services, which includes Local Area Network (LAN), Wide Area Network (WAN) and Communications (Internet and Intranet).
MIS is the only authorised software vendor to market the full range of ACCPAC products in Singapore. Since its incorporation, it has been helping its clients to use ACCPAC Accounting software application to its fullest potential. Through careful system designing, network configuration, operations planning, report designing and data repair, we are able to provide sound ACCPAC end-to-end business management solutions to our customers.
Mission
Our mission is to achieve Customer satisfaction through:
A unique combination of both accounting and technical expertise so as to implement sound, reliable ACCPAC Accounting Software and Networking systems, specifically tailored to individual business needs
Continue our regional expansion plan for the next few years via alliance network and associate companies
Pursue new technologies to assist our customers to achieve their business objectives
State-of-the-art technology, a trained and motivated work force and scientific management systems
Reliable and consistent quality products to become partners of first choice
Abiding and reliable long-term business relationships
Vision
"To win and retain the confidence and loyalty of customers through dedication to quality and excellence in work."
"To win and retain the confidence and loyalty of customers through dedication to quality and excellence in work"